EXPLORE ALL THAT AURORA HAS TO OFFER
Monteverdi Estates is surrounded by an abundance of schools, restaurants, retail, parks and more. Use this interactive map above to select a category, see the list of amenities and their exact locations on the map.
WHY YOU'LL LOVE AURORA
FAMILY FUN IN ALL FOUR SEASONS
Stay active and healthy all year round with incredible state-of-the-art recreation complexes just around the corner from Monteverdi Estates. Kids and adults alike love to skate, swim and play sports at the Stronach Aurora Recreation Complex, the Aurora Family Leisure Complex and the Aurora Community Centre. Meet friends, join fitness and recreation programs and enjoy family-friendly activities throughout the year.
CENTRAL LOCATION
Nestled in nature, Aurora is located in the heart of the GTA, equidistant to Toronto in the south and cottage country to the north. Bayview Wellington is a desirable, established neighbourhood in Aurora with walkable shops, restaurants, schools and parks. Getting around is easy and convenient.
SHOPPING AND DINING
Aurora has downtown boutique shopping, gourmet dining, family restaurants and a wide selection of grocery and retail stores all along the Yonge Street corridor, plus Smart Centres shopping hubs, Upper Canada Mall and Hillcrest Mall just minutes away.
TOPS IN EDUCATION
Aurora has some of the finest elementary and secondary public and private schools in the GTA, as well as preschool and daycare options. It is a short drive or transit commute to some of Canada's best colleges and universities, such as Seneca College, University of Toronto, Ryerson University and George Brown College.
QUICK CONNECTIONS
Commuting is quick and easy with Aurora GO transit and Highways 400 and 404, connecting you to Toronto and the rest of GTA in less than 30 minutes. Bustling Yonge Street is within walking distance, or connect to trails on your bike or cross country skis and explore the neighbouring cities and towns.
SCENIC BEAUTY
Aurora is nestled in beautiful scenery with tons of parks, ponds, trails, lakes, meadows and picnic spots, perfect for hiking, biking, boating, fishing and more. Aurora's longest trail corridor, Tim Jones Trail, links to dozens more four-season trails, forests, ponds and natural landscapes to explore in the area.
ECONOMIC ACTIVITY
Aurora is a business and commercial hub, with many large companies like Magna, Amazon, Bulk Barn, Intact and more, offering great, well-paying jobs. The town also has a strong entrepreneurial spirit, with many thriving small businesses that employ up to 20 people. In 2019, Maclean's magazine named Aurora as the 11th best community in Canada overall and the 9th best for families.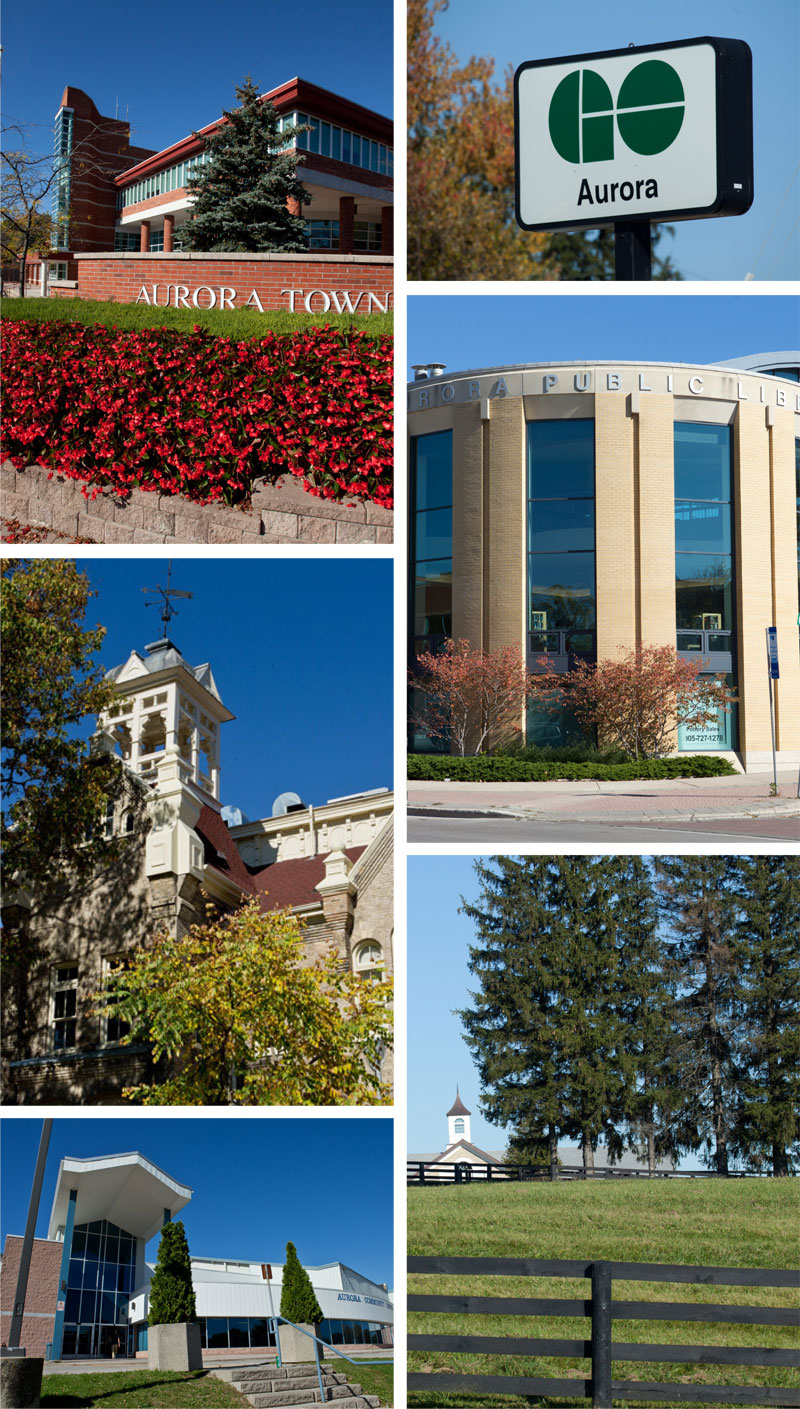 JOIN FOR EXCLUSIVE VIP ACCESS